Chargers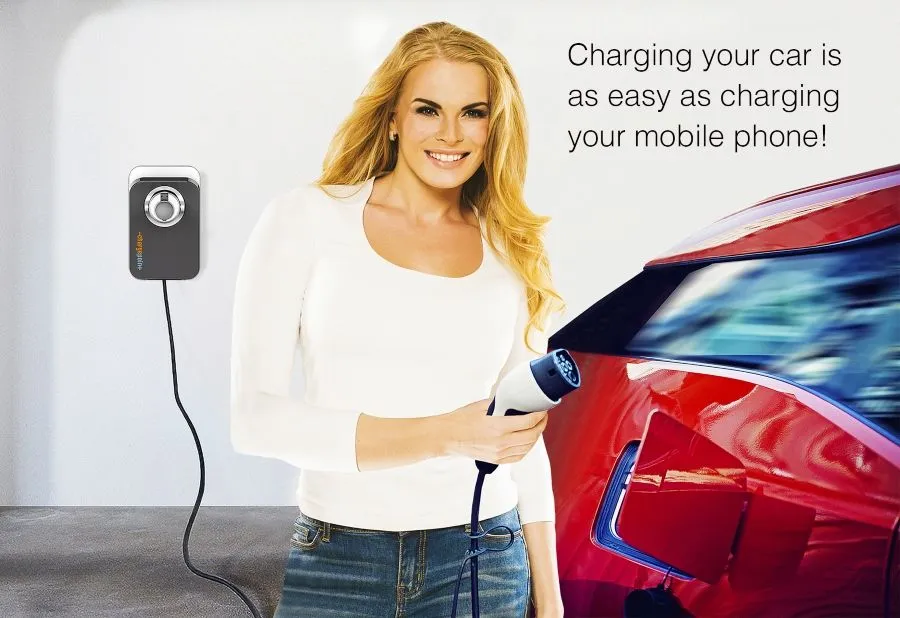 Most EV drivers prefer the convenience and speed of a charger since it'll charge your vehicle up to three times faster than a standard wall plug. In the past few years, charger prices and installation fees have substantially decreased. A CURRENT electrician can add a 240V circuit breaker to your power box and install a dedicated wire that connects to your charger, giving you the ability to recharge your EV in a few hours time.
CHARGERS ARE INEXPENSIVE, HIGHLY EFFICIENT AND EASY TO USE:
Faster Charging
Level 2 home or commercial chargers are 2 to 3 times faster than plugging into a standard 110 wall plug.
Level 3 Quick Charger will charge a battery to 80% in 15 -20 minutes.
Convenient
Any kind of charging – even at any available 110V outlet - is more convenient and costs much less than filling up at a gas station because you:
Avoid gas station lines
Don't need to search for the cheapest gas
Don't pay gas tax
Don't get your hands dirty
Don't breathe gas fumes
Don't have to choose between different grades of gasoline
Have your own "fueling station" in your garage
Plug-in at night and in the morning you're charged and ready to go
Can charge from renewable sources of energy like solar
Safe & Standards Compliant
EV chargers are certified by independent organizations like UL, CSA International and Edison Testing Labs. Chargers use sophisticated computers and software to protect both the vehicle and the user.
FREQUENTLY ASKED CHARGER QUESTIONS
Do I need to buy and install a charger at my home or garage in order to charge my new EV?
Not necessarily. If you get a plug-in hybrid like an Audi Q5e, Hyundai Ioniq, Kia Niro or Toyota Prius Prime, you may not need a home charger. Since ALL EVs come with a standard charging cable that permits you to plug in to any 110-volt wall socket, you can actually charge your car anywhere there is a place to plug in. 
However, most EV drivers with cars that have a 200 to 300-mile range prefer to have the convenience and speed of a charger at their home or office, since it will charge your vehicle up to three times faster than a standard wall plug. 
How much do chargers cost to buy and install?
Chargers range in price from about $499 up to more than $1000. The cost of installation can be as little as $400 and up to $1500 or more. It all depends on where your electric panel is in relation to where you will be putting your charger and how much labor it will take to accomplish the installation. If a conduit needs to be run from a distant part of your house to the location you've picked for your charger, or if new or upgraded electrical service is required at your home, you will have additional costs involved.
Can I get rebates, credits or incentives for installing a charger at my home or office?
Yes. Many utilities provide incentives. The LADWP has expanded its support of electric transportation with Charge Up LA! The program offers LADWP residential customers rebates to help offset the cost of installing a charger. Eligible customers may receive a rebate of up to $500 for the purchase of a qualified Level 2 (240-volt) charging station and a $250 rebate for the installation of a dedicated EV meter. Additionally, the LADWP also offers special rate plans for charging EVs, which can involve charging your EV at a specific time, usually at night. 
CURRENT EV representatives are aware of these incentives and can explain them to you. In some cases, these incentives will cancel out most or all of the cost of installing a charger.
Is it easy to learn how to charge my EV?
Yes! It's easier than putting gas into your traditional car. Charging your EV is like charging your mobile phone. What's involved? You turn on your charger, open your car's charging port and plug the charger extension into the port. A plug-in hybrid will get fully charged in a few hours. An EV will take 7 to 12 hours to fully charge. Take the 2021 Chevrolet Bolt for instance; using a 240V charger, the EV gets fully charged in 7.5 hours. When your car is fully charged, you disconnect the charger extension from the charger port and close the port. That takes less than a minute. It's that simple! 
If you need to find a charger away from your home or office, rest assured. It's easy, because there are a lot of chargers in Los Angeles! As of January 2021, 10,000 new commercial EV charging stations have been built in the city, bringing the total to 10,779 stations. Los Angeles has more charging stations than any other metro area in the USA. With around 80,000 commercial chargers state-wide, California has more chargers than any other state. 
If I have solar power on my home, can I charge my EV by the sun?
Yes. Depending on how large your solar system is, and how much power you use at your home, you may be able to charge your EV at no cost and without generating any pollution whatsoever.
Does the charger charge the batteries in my electric vehicle?
Actually, no. Technically, your EV's charger can be found onboard your vehicle. The equipment in your car receives AC current from your house (or another outlet) and converts it to DC, so that your car's battery pack can be replenished. The box, cord and plug which you mount on the wall of the garage in your home or business is known as EVSE – Electric Vehicle Service Equipment. Your EVSE, or "charger" as it has come to be known, allows drivers to safely connect an electric car to a 240 Volt source of electricity, so that it can be charged quickly and safely.
Do I have this 240V capacity in my home or office?
Probably not. Most EV owners find that to install a charger, they have to add a 240V circuit breaker in their power panel, along with a secured, dedicated wire that brings the 240V current from the box to their garage. If your power panel is near to where you want to put your charger, a CURRENT EV electrician will charge you a few hundred dollars for the installation. If your power box is on the other side of your dwelling, the electrician will need to charge more for the additional materials required and the time needed to install the conduit encasing the dedicated wire that leads to your garage.
You can have the CURRENT EV electrician attach the 240V wire directly to your charger, or: you can have the wire attached to a NEMA 14-50 outlet, which you can plug your charger into. This means you can then mount your charger right next to the outlet, and simply plug it in with an adapter that can be used with the NEMA. If the time comes when you move, or decide to relocate your charger, simply unplug the charger and plug it back into another NEMA 14-50 outlet somewhere else. This leaves your charger instantly moveable without additional expense.
Level 1, Level 2, Level 3/DC – what is the difference between these chargers?
Level 1 (L1) charging occurs when you plug your EV or hybrid into a 120V outlet. Generally, all the electrical wall sockets in your dwelling are 120 Volts. An EV can take between 12 and 30 hours to fully charge this way. Level 2 (L2) charging occurs when you plug your EV or hybrid into a 240V EVSE (charger). An EV can take between 6 and 8 hours to fully charge this way. 
Level 3/DC refers to DC Fast Chargers which are gas pump-sized devices installed in public places. They can recharge your EVs battery in 15 to 45 minutes. This assumes your EV has a DC Fast Charge port. "Standard" model EVs come with L1 and L2 capabilities but may not have a DC Fast Charge port. "Luxury" EV models have them. Not to worry if you don't have a DC Quick Charge port, because most people charge with L1 or L2 and rarely need Fast Charge capability.
Should I be concerned about my charger's amperage capacity?
The rule of thumb is that 30-amp service will roughly give you the ability to add 25 miles of range in an hour – just as 15 amps will add about 15 miles in an hour of charging. You should purchase a charger than can handle at least 30 amps. All the chargers sold through CURRENT EV have this capacity.
Do I want to buy a Wi-Fi-enabled charger with the capability to monitor my charging events?
Some chargers have timers, meters, touch screens and capabilities for programming and monitoring charging events via the internet. But while these fancier products sound cool, CURRENT EV believes the additional cost isn't necessary, unless you need to keep track of charging times for tax or budget reasons. Simple and easy is best in our opinion.
If I live in an apartment building or a condo, can I install a charger?
Yes. To learn what's involved, CURRENT EV suggests you go to this Chargepoint website: